Supported browsers Google Chrome version 24.0 (or higher) and Internet Explorer version 9.0 (or higher).
Important News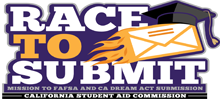 The Race to Submit is a Statewide Campaign
That aims to increase the number of financial aid application for California high school seniors who complete the Free Application for Federal Student Aid (FAFSA) and California Dream Act Application. Filling out these financial aid applications is the first step towards college success and helps students qualify for federal and state aid to help pay for college. Race To Submit — Mission to FAFSA and California Dream Act Submission Click here...
2017-18 Workshop Information
Starting October 1 through the March 2 Cal Grant deadline, students and families can attend FREE Cash for College workshops across California for help completing the Free Application for Federal Student Aid (FAFSA) or California Dream Act (CADAA) and Chafee Grant for Foster Youth applications.
Our mission is to help low-income and first generation college-goers complete the application process so they can access financial aid for education and career/technical training beyond high school.